One of my favourite places to take a well earned caravan & mobile home holiday is in France. Don't pay an agent's commission and don't pay one of the big, and far more expensive, European camping and caravanning companies when you can book direct with the caravan & mobile home owner.
Learn a bit of the lingo. Holiday phrases in French
The French are a festive bunch, with many cities hosting music, dance, theatre, cinema or art events each year. Rural villages hold fairs and fetes, which celebrate everything from local saints to agricultural progress.
14th July is Bastille Day - French National Day
We have private static holiday caravans on all of the big and action packed campsites in France, including Haven Europe sites and many others that are great for family camping holidays in France.
Why should you take a caravan holiday in France? Well it's just a short hop over the channel and it is much easier and quicker than you think. One of the things I find with first time mobile home holiday makers travelling to France, is they don't realise how relaxing and great the ferry crossing can be. In fact, your holiday starts as soon as you park up on the ferry.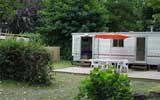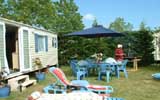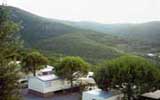 Depending on where you are travelling in France, it is recommended that you take an overnight ferry. These are great for kids and most have excellent facilities including cinemas, games rooms, lots of kid's entertainment and many restaurants and bars.
More information on Ferries to France
France is divided into 22 regions, which are subdivided into a hundred départements, which are further divided into 36,779 communes
Some of the more popular regions for Mobile home holidays are:
Southern Brittany - A region proud of its roots that has successfully retained its customs and traditions. History and legend have given rise to an outstanding artistic heritage.
West Coast Of France - Including the Vendee, Poitou-Charentes, Royan and many other towns on the shores of the Atlantic Ocean.
South Coast Of France - With Côte d'Azur and St. Tropez, you can mingle with the jet set and do a bit of celebrity spotting. Ideally situated between the Mediterranean coastline and the Alps, its location and climate are extremely attractive.